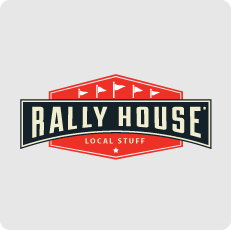 Retail Store Manager
Join the Rally House team and SHOW YOUR COLORS!! Whether you root for Pirates, Penguins, Pitt Panthers or Steelers…Rally House offers a diverse workplace, excellent career path plus sportswear and gear to advance your personal and professional game.
Why Rally House? Our stores offer a 40% off discount, friendly environment, flexible schedule and comfortable shopping experience, with associates dedicated to helping customers find the perfect new item to represent their team! We want to be more than just another sports store, and our team helps us stand apart from the competition. We don't just provide jobs; we provide careers – places to grow. The key to creating our premium experience is our people. Our focus is to hire people who are passionate about sports and helping customers. Premium associates who maintain or exceed our standards of excellence help bring our brand to life in-store and online and by taking great care of our customers.
Position Summary
Store Managers direct all activities required to achieve all store goals including sales objectives, customer service, employee relations management, payroll and operating expenses, ensuring loss prevention and executing merchandise presentations. The Store Managers are in charge of forecasting their store's sales projections, staffing their store for success, and managing their payroll for maximum profitability. Store Managers are responsible for recruiting and identifying key associates, as well as training and developing these key associates for further advancements in their careers with Rally House. The Store Managers will be responsible for organizing, game-planning and executing floor moves and merchandising to ensure proper exposure and maximum opportunities for merchandise to be sold. Overall the main responsibility is to ensure that all company policy and procedures are understood and practiced to keep the store game day ready.
Duties and Responsibilities
Sales: Proven ability to generate sales, add-on and develop and direct the sales team
Recruiting: Proven ability to interview, select and develop sales team
Customer Service: Ability to function as a role model, ensuring that the customer remains the top priority
Store Operations and Organization: Ability to organize, delegate, prioritize, meet deadlines and follow-up on all activities within the store
Responsible for developing and managing content curation to all social media platforms including, but not limited to Facebook, Twitter, Instagram,, etc.
Leadership: Proven ability to challenge, motivate and drive the team's results
Merchandising: Knowledge of visual standards and techniques, and ability to implement and substitute within guidelines
Communication: Demonstration of strong verbal and written communication skills to store team, Operations Managers, District Manager, Corporate Office and Store Associates
Qualifications
2-5 years in a store management position coaching and developing others
Experience in specialty clothing retail
Associates or Bachelor's degree preferred
Excellent communication and analytical skills
Training and Coaching experience required
Enthusiastic attitude, outgoing
RH is an equal opportunity employer
Posted 04/30/2019