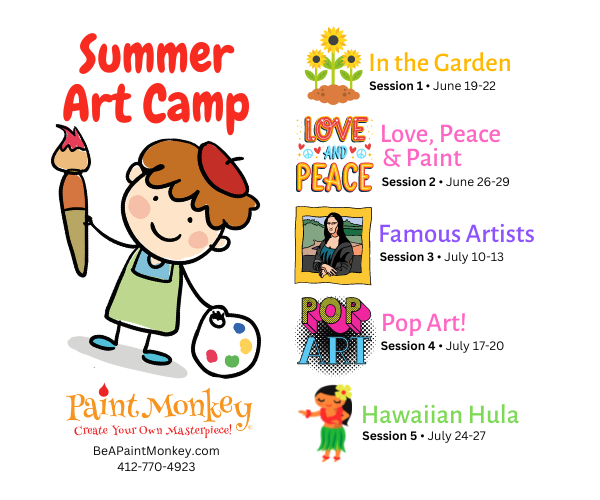 Summer Art Camp
Sessions from June 19 through July 27
The Perfect Summer Getaway for Your Child – Art Camp!
If you've got a creative child, we have a summer solution for you!
Choose from five great summer camp sessions, sure to bring out the artistic talent in your family.
Cost per week for each camp session is $285+tax.
Appropriate for ages 6 through 12.
Summer Art Camp Sessions available:
Session 1
In the Garden • June 19-22
Sign up now>>
Session 2
Love, Peace & Paint • June 26-29
Sign up now>>
Session 3
Famous Artists • July 10-13
Sign up now>>
Session 4
Pop Art! • July 17-20
Sign up now>>
Session 5
Hawaiian Hula • July 24-27
Sign up now>>
Summer Art Camp sessions may vary. Visit Paint Monkey for more information.
About Paint Monkey
Everyone paints the same painting. One of our talented local artists guides you through the painting, step by step in a 2 or 3-hour session and you will go home with your own masterpiece!  Even though the paintings may all start out the same, you'll see how completely different everyone's turns out. That's because we encourage you to make it your own!
We provide you with a pre-sketched 16 x 20 stretched canvas, paints and brushes, an apron and a creative atmosphere and lots of encouragement.
Check out the calendar of classes for our Waterfront Studio (found under the tab "Book A Class", select a painting you would like to paint and click the link on the date you'd like to come. When you book online, you are paying for the class ahead of time. Show up 15-20 minutes early on the date you reserved. We find that folks need to get settled in, open their wine, etc. This way, we can begin on time. Our studio holds about 50 people, so if you have a larger group of friends, you can all book together. Just let us know ahead of time who's in your group and we will seat you together!