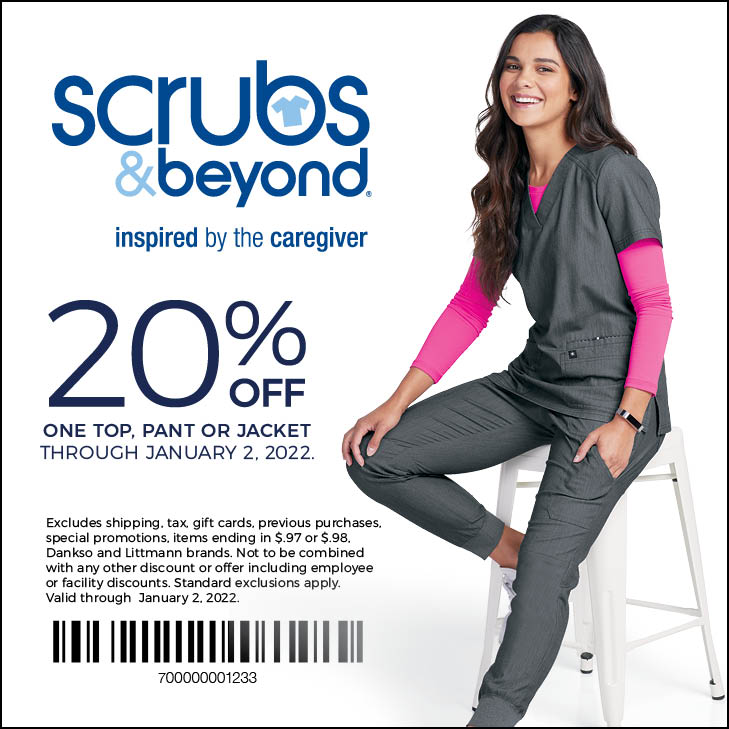 Save 20% Off – Just in Time for the Holidays!
Now through January 2, 2022
Get Savings Off the Items You Really Need
The holidays are almost here, and 2022 is coming soon!
Now's the time to save on the scrubs you (or someone you love) really want.
Save 20% off one top, pant or jacket until January 2, 2022.
Show this ad at checkout for savings to be applied.
20% Off One Top, Pant, or Jacket Offer excludes shipping, tax, gift cards, previous purchases, special promotions, items ending in $.97 or $.98, Dansko and Littmann brands. Not to be combined with any other discount or offer including employee or facility discounts. Standard exclusions apply. Valid through 1/2/2022.
About Scrubs & Beyond
"We are inspired every day by the dedicated professionals we serve. Your work is why we're here and we offer sincere thanks."
—Karla Bakersmith | President & Founder
The first Scrubs & Beyond store opened in September 2000 and was immediately aligned with fashion-forward styles, outstanding customer service and stores that exuded style and professionalism. We saw that the typical uniform store was lacking in ambiance and personal service, so we raised the bar and changed the boring shopping experience into an exciting event that caters to discerning scrub shoppers. It is truly beyond any scrub store in today's market and transforms an otherwise strictly functional endeavor into a true experience. We are inspired by people who care for others and we want to exceed the expectations of those who do this vital job.
In July of 2013, Scrubs & Beyond acquired Life Uniform and Uniform City. Scrubs & Beyond is now the largest supplier of healthcare apparel and accessories in the country with over 140 stores nationwide.
Visit a store in your area and enjoy top-notch service and a truly boutique atmosphere. Our associates are well versed in understanding the unique needs of each caregiver, helping them find the right set of scrubs with the features they need to perform their best. With innovative options, from antimicrobial fabrics and well-placed pockets to a comprehensive selection of medical accessories and footwear, any medical professional can find everything they need while enjoying a superior shopping experience.
Don't live near a store? No problem! You are Always First in Fashion™ when you shop our Scrubs & Beyond catalog, which is available via mail or online. Whether you shop with us in store, through our catalog or online, you'll find merchandise from top industry labels like Landau, Urbane, Cherokee, Koi, Barco, MedCouture, Dickies, Dansko, Littmann and more, as well as fashion forward private label collections, including our very own Beyond Scrubs collection, only found at Scrubs & Beyond.
Looking for a uniform solution that will give your employees the professional image you want? We offer a host of group purchasing options to suit organizations of any size, from a small practice to a large hospital system. Contact our team and let Scrubs & Beyond find the solution that fits best.
We look to the future with excitement as we continue to focus on creating an enjoyable shopping experience by providing value, exceptional service, quality and selection to medical professionals and beyond.