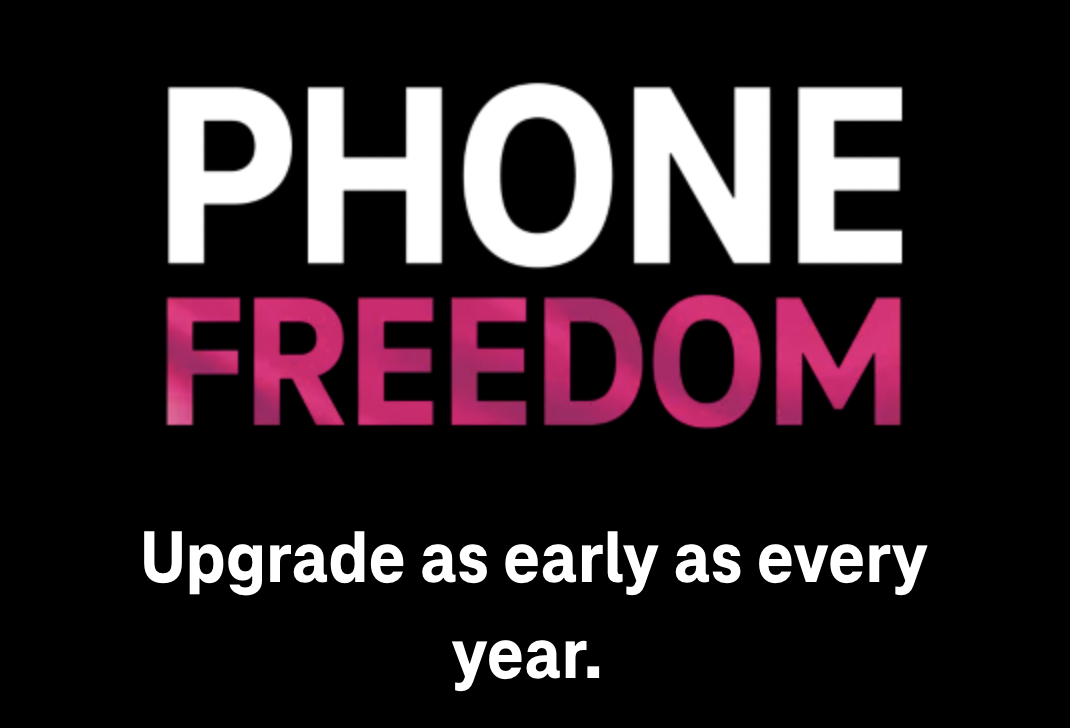 Phone Freedom
Switch Today
Have the Freedom to Upgrade Every Year
With Phone Freedom, you can upgrade as early as every year!
Now with T-Mobile you decide when you want to be upgrade-ready with one of our best Go5G plans.
You choose one year or two years, whatever works best for you.
Get one of our Freedom Plans!
Go5G Plus: Upgrade-ready in 2 years. Go5G Next: Upgrade-ready in 1 year. Available only for qualifying new financed devices purchased on Go5G Next plan; existing devices are not eligible. Upgrade qualifying device after at least 6 months and when 50% of device cost has been paid. Trade-in device must be in good working order. You must be current with your scheduled financing and wireless service payments. Upgrading ends current financing and any device promotion or deposit reimbursement credits; trade-in satisfies early upgrade and not valued separately. Not combinable with some offers (e.g., JUMP).
T-Mobile U.S. Inc. is America's supercharged Un-carrier, delivering an advanced 4G LTE and transformative nationwide 5G network that will offer reliable connectivity for all. T-Mobile's customers benefit from its unmatched combination of value and quality, unwavering obsession with offering the best possible service experience and undisputable drive for disruption that creates competition and innovation in wireless and beyond. Based in Bellevue, Wash., T-Mobile provides services through its subsidiaries and operates its flagship brands, T-Mobile, Metro by T-Mobile and Sprint. For more information please visit: http://www.t-mobile.com.