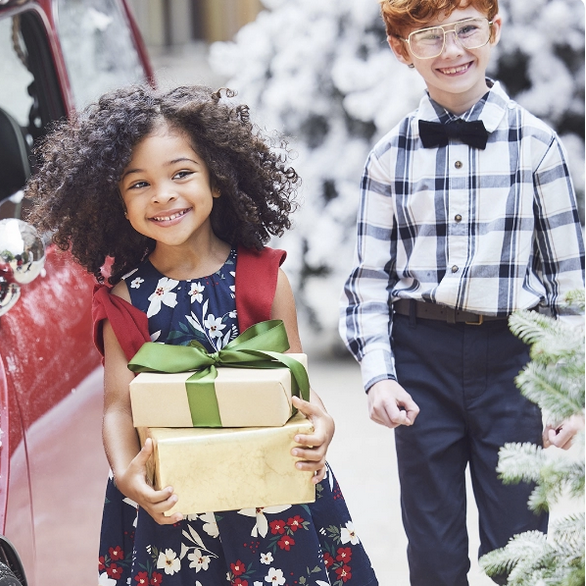 Merry, Cozy, Cool Styles & Holiday Gifts
Now available
Get Set for the Holiday Season with Carter's!
Oh, what gifts!
Carter's is decked with kids' holiday styles to celebrate the season, plus great gift ideas for parents.
Shop festive outfits, cozy fleece pieces, sherpa finds from hats to cardis to prams, and oh, so much more!
See our Holiday Gift Guide here, then shop in-store for the perfect presents.
What's on your list?
Holiday items may vary by location. Shop in-store for the best selection.
Carter's is the baby and kids brand for everyone to love: cute, colorful, and happy! Dedicated to providing great value and an easy shopping experience for busy families on the go. Carter's is here to celebrate the journey with you: building on a long-standing trust that has made us #1 in young children's clothing and accessories, ages newborn to 8.
Carter's Babies & Kids is the leading brand of children's clothing, gifts, and accessories in America, selling more than 10 products for every child born in the U.S. Our designs are based on a heritage of quality and innovation that has earned us the trust of generations of families.
We continue this heritage in every little detail to make dressing kids easier for mom and life more comfortable for babies, and as we move into the future, we are proud to help families like yours with innovative products and new ways to shop for them.
Throughout the years, Carter's has been known for its thoughtful little details like the Handi-Cuff mitten sleeve that protects babies from self-scratching, and the Jiffon neck design that slips over little ears for easy outfit changes – and although we've grown a lot since the early days, we stay true to the philosophy that earned us the trust of generations of families.
Our Philosophy
Carter's Babies & Kids believes that childhood is a celebration, and the colorful prints and cute characters we design are inspired by the joy and love children bring into our lives. We celebrate childhood by supporting babies, children, and families with thoughtful designs, quality materials and construction, and convenient shopping options.
You can count on Carter's to take care of the little details so that you are free to focus on what really matters: celebrating your little one – and the hugs, cuddles, giggles, and babbles that light up our lives.