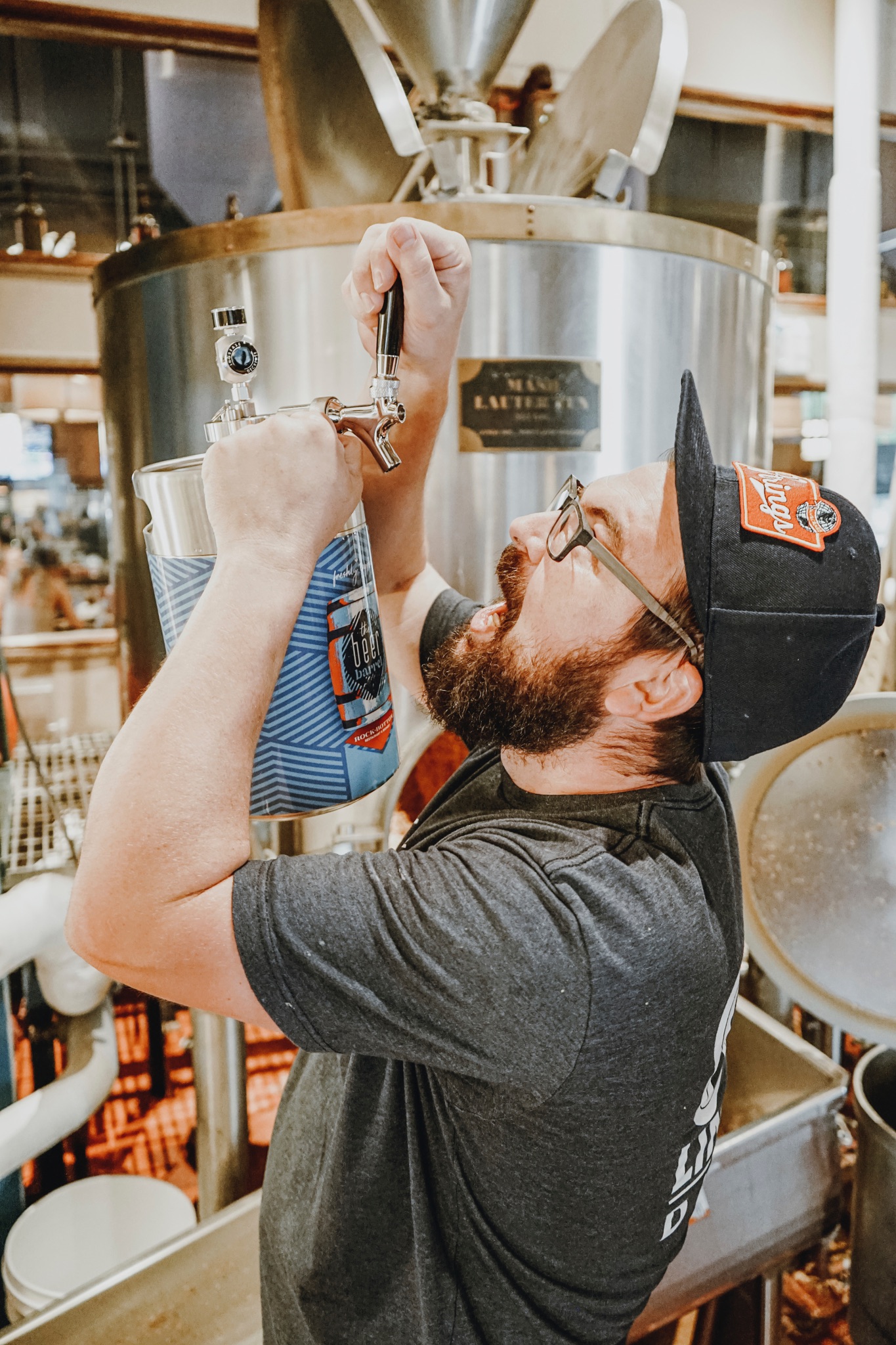 Introducing the Beer Barrel Club!
Now available
Join the Club and Bring the Brewery Home!
Bring the brewery home with you!
Our NEW beer barrel pours eight full 16 oz pints … perfect for tailgating or your next house party.
Join the Rock Bottom Beer Barrel Club* for $300 and receive a $300 Rock Bottom gift card that's good for 12 Beer Barrel fill-ups. †
Being a Beer Barrel member, you'll receive:
A first-of-its-kind, exclusive Rock Bottom Beer Barrel to keep. Our Beer Barrel is a double-walled steel keg that comes with the tap handle, faucet, and knob, CO2 cartridge, a how-to guide, and holds 128oz.
12 Beer Barrel fill-ups anytime you'd like.
Free Beer Barrel Cleaning at Any Rock Bottom Location.
Sign up today and be an official member of the Rock Bottom Beer Club!
Cost: $300
Must be 21 years or older to join the Beer Barrel Club. See restaurant for details. Please drink responsibly.
† Beer Barrel serves 12 (qty) 10oz glasses or 8 (qty) 16oz pints. Rock Bottom Barrel Club members receive a barrel club card. Must show barrel club card to get the discount on refills. Barrel club cards can only be used for barrel club purchases. Valid for cardholders only. Not valid at Rock Bottom locations where prohibited by law, specifically Rock Bottom Boston or Rock Bottom Minneapolis. No refunds or replacements if the card or barrel is lost or stolen. Discount excludes select specialty or promotional beers. Rock Bottom reserves the right to end the beer barrel club/program at any time. Valid for guests ages 21 and up. Please drink responsibly.
* Beer Barrel program excludes select specialty or promotional beers – please check with your local Rock Bottom management team for availability. Restrictions apply at Rock Bottom Bethesda, Rock Bottom Boston, and Rock Bottom Minneapolis.
Passionate about pints. Maniacal for malts.
Rock Bottom always has been and always will be about the beer. Every tank we tap represents hours of planning, experimentation, ingenuity and precision by your local Rock Bottom Brewmaster. While we pride ourselves on the remarkably consistent quality of our beers, we're just as dedicated to letting the personality, experience and particular expertise of each Brewmaster shine through.
When you hit Rock Bottom, you'll not only enjoy these handcrafted brews and our made-from-scratch food, but you'll feel a connection to the locals and the location that just doesn't happen at many other restaurants. We like to say that life begins when "You've Hit Rock Bottom®".
Whether you're a local in search of other locals or a visitor in search of local flavor, you'll find them both at your local Rock Bottom. We're ALWAYS laughing, loving, cooking, pouring, living, BREWING.