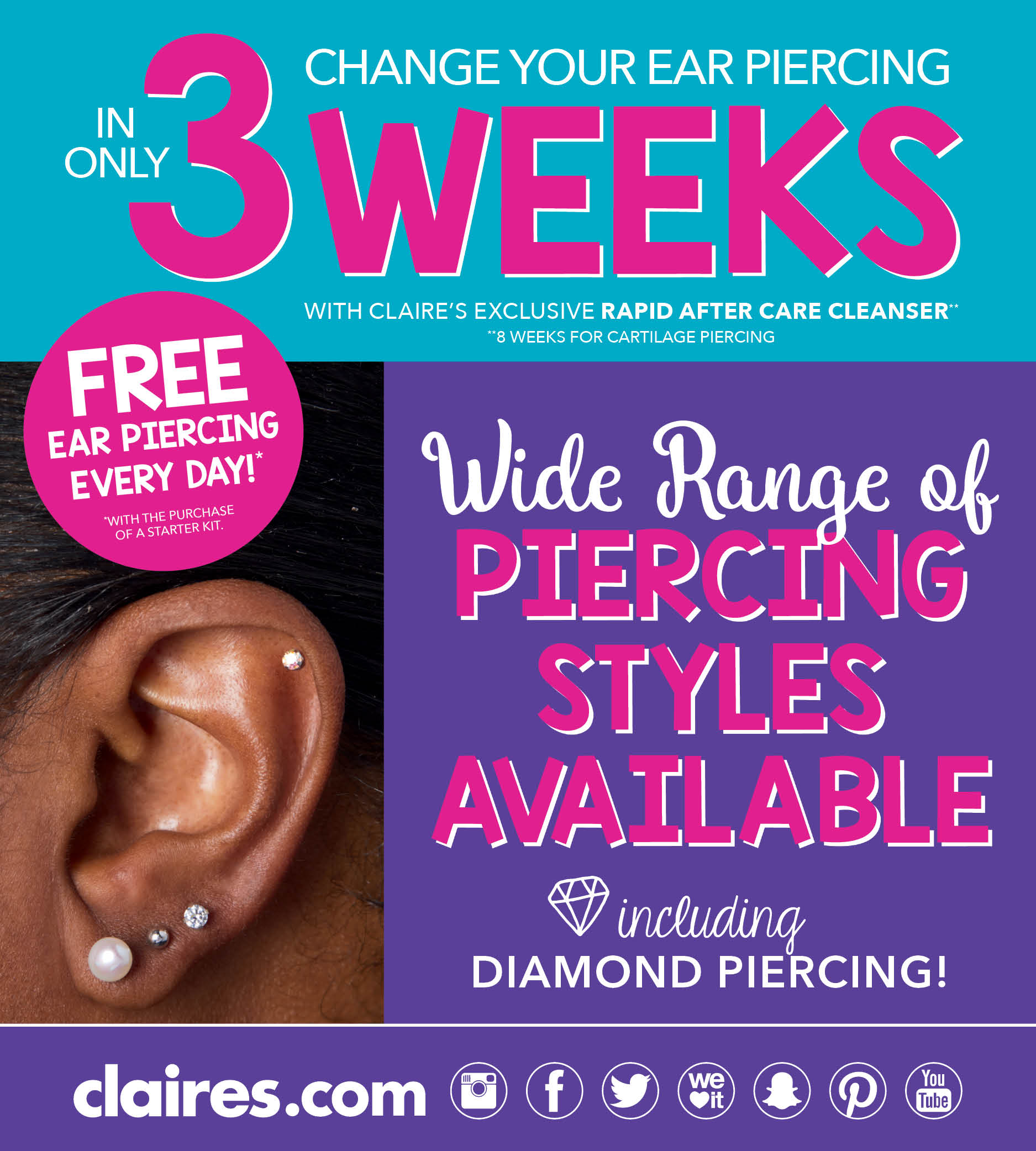 Get Your Ears Pierced FREE
Going on now
Free Ear Piercing Available at Claire's!
Get your ears pierced free with the purchase of a starter kit.
A wide range of piercing styles are available, including diamond piercing!
Change your ear piercing in only three weeks with Claire's exclusive Rapid After Cleanser™.
Free Piercing only with purchase of a starter kit. Additional charge applies to cartilage piercing. Ask a store associate for more details. Claire's exclusive Rapid After Cleanser™ works in 8 weeks for cartilage piercing.
Claire's is one of the world's leading specialty retailers of fashionable jewelry and accessories for young women, teens, tweens and kids. Our vision is to be the emporium of choice for all girls (in age or attitude) across the world. We deliver this by offering a range of innovative, fun and affordable products and services that cater to all of her activities, as she grows up, whenever and wherever. Our broad and dynamic selection of merchandise is unique, and over 90% of our products are proprietary. Claire's® is our primary global brand that we operate in 46 countries through company-operated, concession store-in-stores, or franchise stores. Claire's® offers a differentiated and fun store experience with a "treasure hunt" setting that encourages our customer to visit often to explore and find merchandise that appeals to her. We believe that by maintaining a highly relevant and ever-changing merchandise assortment that offers compelling value and is delivered in a fun and accessible way, Claire's has universal appeal to teens, pre-teens, and kids.