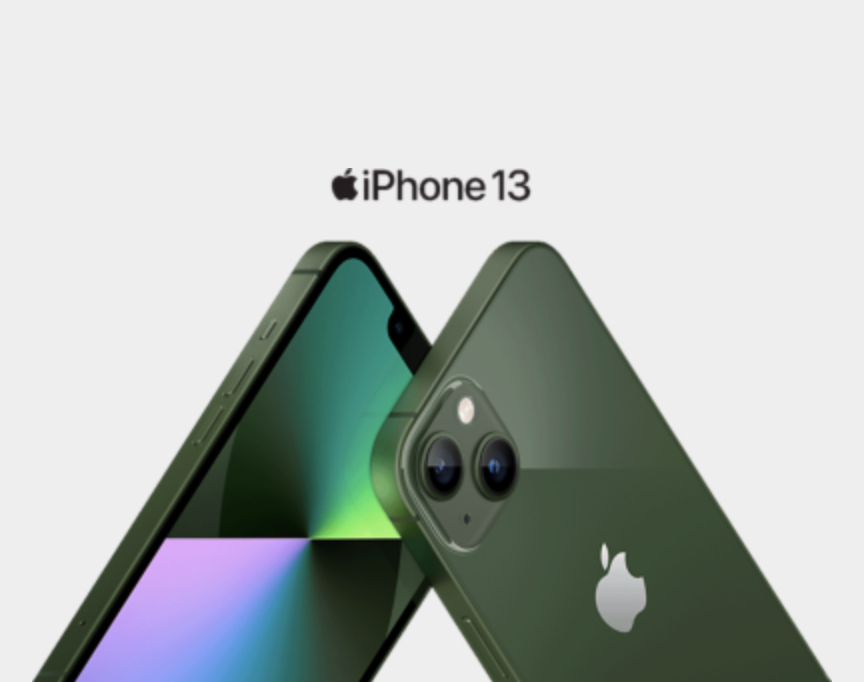 Get a Green iPhone 13 on Us!
Now available
Get a FREE iPhone 13 … in GREEN!
If you're into green, come on over and get an iPhone 13 on us!
You'll be on the network with more 5G bars in more places.
Via 24 monthly bill credits when you add a line and trade in an eligible device.
See all the deets here, then stop by the store and go green!
Free iPhone 13 in green restrictions: Contact us before canceling service to continue remaining bill credits, or credits stop & balance on required finance agreement is due (e.g., $799.99 – iPhone 13 128GB). Tax on pre-credit price due at sale. Limited time offer; subject to change. Qualifying credit, service, and trade-in (e.g., iPhone 12) required. If you've cancelled lines in past 90 days, you may need to reactivate them first. Tax on pre-credit price due at sale. In stores & on customer service calls, $35 assisted or upgrade support charge may be required. $799.99 via trade-in credit and bill credits; must be active and in good standing to receive credits, allow 2 bill cycles. Max 4/account. May not be combinable with some offers & bill credits. While 5G access won't require a certain plan or feature, some uses/services might. See Coverage details, Terms and Conditions, and Open Internet information for network management details (like video optimization).
T-Mobile U.S. Inc. (NASDAQ: TMUS) is America's supercharged Un-carrier, delivering an advanced 4G LTE and transformative nationwide 5G network that will offer reliable connectivity for all. T-Mobile's customers benefit from its unmatched combination of value and quality, unwavering obsession with offering the best possible service experience and undisputable drive for disruption that creates competition and innovation in wireless and beyond. Based in Bellevue, Wash., T-Mobile provides services through its subsidiaries and operates its flagship brands, T-Mobile, Metro by T-Mobile and Sprint. For more information please visit: http://www.t-mobile.com.