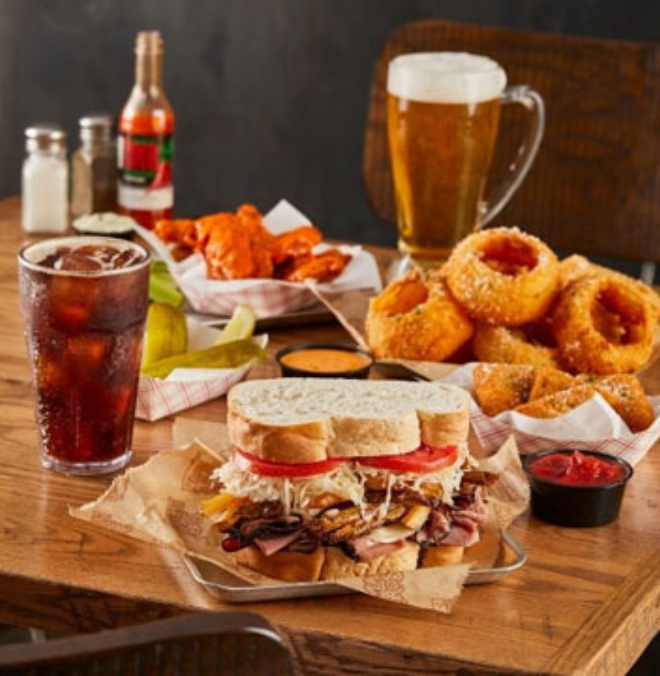 Food for Football!
Now available
Football Season is Here – Make it Tasty!
Football means fun get-togethers with friends.
Don't leave them hungry – grab some Primanti Bros. food from our Game Time Menu!
Order your food today, or call 412.461.1469 and drop by for pick-up!
Football Take-out Menu may vary. See restaurant for details.
When people think of Primanti Bros., they think of sandwiches – which makes sense, since the restaurant has been making hungry folks happy since 1933. But we're also proud to offer a top-notch selection of pizza, wings and snacks that'll put the pickiest eaters in a good mood.
Almost Famous Sandwiches
You can get it with beef or turkey or pork – sometimes all three! – just don't try to get it with fries on the side. Freshly sliced meats and cheeses, tart coleslaw, and crispy French fries piled high on Italian bread, it's Almost Famous and still a veritable institution.
Wings
Big, breaded, crispy wings slathered in one of nine different house-made sauces – what's not to like? We've got room at the bar, we've got sports on our TVs, and we've got awesome wings. You've got no excuses for not being here.
Pizza
Hand-tossed dough with house-made sauce and all your favorite toppings mean you've got a new favorite pizza. Grab a slice after work or pick up a whole pie (and then some) during Pizza Feast Tuesdays & Thursdays.
Beer
From the newest microbrews to old classics and favorites, we know the secret to great beer is to serve it cold and keep plenty of it on hand.
Fries
Other Good Stuff
Discover our not-so-hidden food gems on your next visit! Start off with a bowl of Almost Famous chili or fried pickles then move into the juicy hamburger or crunchy fried fish sandwich portion of the meal. Throw some onion rings on the side, finish up with a bit of bread pudding, and realize just how much great food you've been missing.