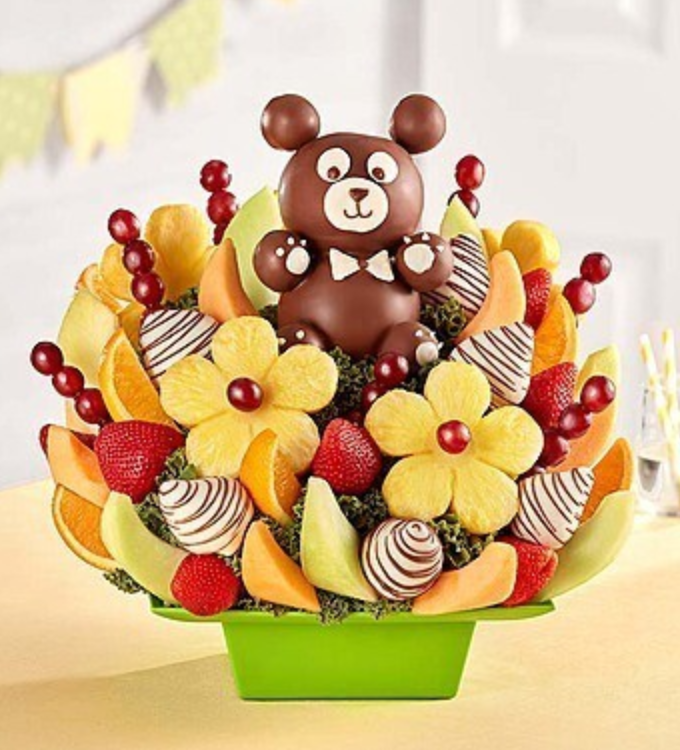 Bouquet Decorating Class
Reserve Your Spot Now
Take a Class That's a Party, Too!
Get a few friends together to learn how to decorate a fruit bouquet with fruit and chocolate.
With this class, you'll learn the basics of decorating and enjoy a fruit bouquet to take home. Join us and make this a fun time out.
You and your guests will have the option to choose from 3 types of fruit bouquet baskets to arrange.
An instructor will assist your party with cutting fruit, dipping chocolate, and arranging your bouquets.
$30 Per Person
90 Minutes
BYOB
A $25 fee is required to reserve your time & date with us, and is fully refunded at the end of your event (please contact us after your event to make refund arrangements).
If you do not attend your scheduled event or exit the premises without restoring it in a neat and clean fashion, the fee is not returned.
Feel free to contact us at sales@goodyhouse.com with any additional questions.
During the Bouquet Decorating Class, you will be personally responsibl​e for any damage to the Fudge Farm property while occupying the venue. Our venue will remain OPEN to the public during your event unless you reserve and pay for a private event. Alcoholic beverages can be consumed by individual​s 21 and up only. No food or snack items can be brought into the venue unless the "bring your own food" option is selected as we provide options that can be ordered at our store. Physically standing at our door and charging your guests a fee to enter or participate in your event is not permitted. Valid Id will be required. All decoration​s and personal items must be removed at the end of the event. The organizer will personally be responsibl​e for restoring the venue being used to a neat and clean area.
The Fudge Farm by: GoodyHouse is Pittsburgh's premium gourmet Fudge & Chocolate & Milk Shake destination.
We carry a fine variety of Gourmet Fudge & Chocolates made right in the heart of Pittsburgh. Our Signature Nutty Cashew Turtles and Mouthwatering Fudge are just a few of the delectable items we offer our customers. In addition, we boast some of the highest profit margins in the Confectionery Industry…please contact us to discuss our wholesale pricing & policy!
The Fudge Farm by: GoodyHouse provides a variety of fundraising options. The organization is provided with the product & price list (if requested). This information is now available online via our secure fundraising page. The length of the fundraiser is flexible. All order forms will be picked up on a set date and product will be delivered on a set date and time.