Back-to-School Deals
Going on now
Check Out our Back to School Sale & Trends
Shop the latest back to school deals and trends at DICK'S Sporting Goods and help your kids start the school year in style.
Save up to 50% on school gear with the latest back to school sales and check out fresh new styles from top brands like Nike®, Under Armour®, adidas® and more.
Cross off some of those essentials from their school supplies list, including kids' backpacks and bags, lunch boxes, accessories and tech. From the classroom to the locker room, you'll find everything they need for every school year, every sport and every season.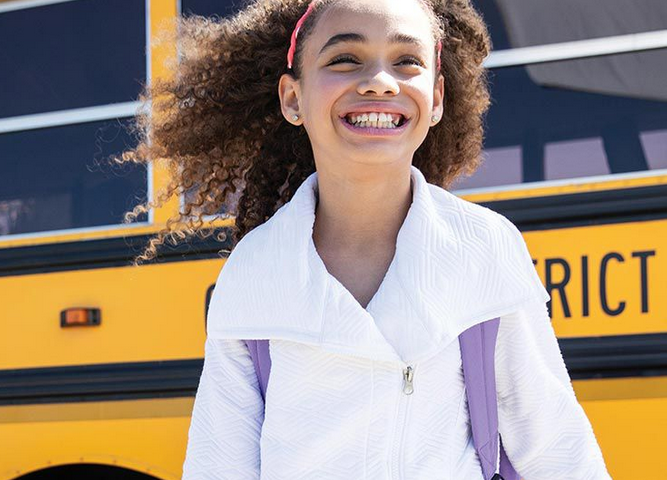 Find complete back to school outfits from these top brands:
Nike Kids' Clothes & Kids' Nike Shoes
adidas Kids' Clothing & adidas Shoes for Kids
Kids' Under Armour Apparel & Under Armour Kids' Shoes
Kids' Jordan® Shoes & Jordan Kids' Shoes & Apparel
If you find a lower price on back to school gear somewhere else, we'll match it with our Best Price Guarantee!
Some restrictions may apply on our Back to School Sale. See store for details.
About DICK'S Sporting Goods:
DICK'S Sporting Goods was founded in 1948 when 18 year-old Dick Stack was working at an Army surplus store in Binghamton, New York. An avid fisherman, Dick was approached by the store owner to come up with a list of products needed to get into the fishing tackle business. After Dick presented his suggestions, the owner told him he was a dumb kid and had no idea what he was doing. Dick was upset and promptly quit. He went to his grandmother's house where he spent a lot of time as a kid and told her what had happened.

Dick's grandmother asked how much it would cost to build the store himself. Dick said it would cost $300. His grandmother then went to the cookie jar where she kept her life savings and gave him $300 and told him "do it yourself." Dick used that money and his relentless work-ethic to open a bait-and-tackle shop in Binghamton. By 1958, he expanded his product line to include much of what you'll find at DICK'S Sporting Goods today.

Ed Stack, Dick's son, is the current CEO and Chairman of DICK'S Sporting Goods. He and his siblings bought the store from their father and are responsible for taking two stores and growing the chain. Dick's family continues to offer the finest quality products at competitive prices, supported by associates with a passion for sports. DICK'S Sporting Goods went public on the New York Stock Exchange on October 15, 2002 under the ticker symbol DKS.

Today, headquartered in Pittsburgh, PA, DICK'S Sporting Goods, Inc. is a leading omni-channel sporting goods retailer offering an extensive assortment of authentic, high-quality sports equipment, apparel, footwear and accessories. As of August 4, 2018 the Company operated 729 DICK'S Sporting Goods locations across the United States, serving and inspiring athletes and outdoor enthusiasts to achieve their personal best through a blend of dedicated associates, in-store services and unique specialty shop-in-shops dedicated to Team Sports, Athletic Apparel, Golf, Lodge/Outdoor, Fitness and Footwear.
DICK'S also owns and operates Golf Galaxy and Field & Stream specialty stores, as well as DICK'S Team Sports HQ, an all-in-one youth sports digital platform offering free league management services, mobile apps for scheduling, communications and live scorekeeping, custom uniforms and FanWear and access to donations and sponsorships. DICK'S offers its products through a content-rich eCommerce platform that is integrated with its store network and provides customers with the convenience and expertise of a 24-hour storefront.
karen
2019-08-13T23:10:20+00:00