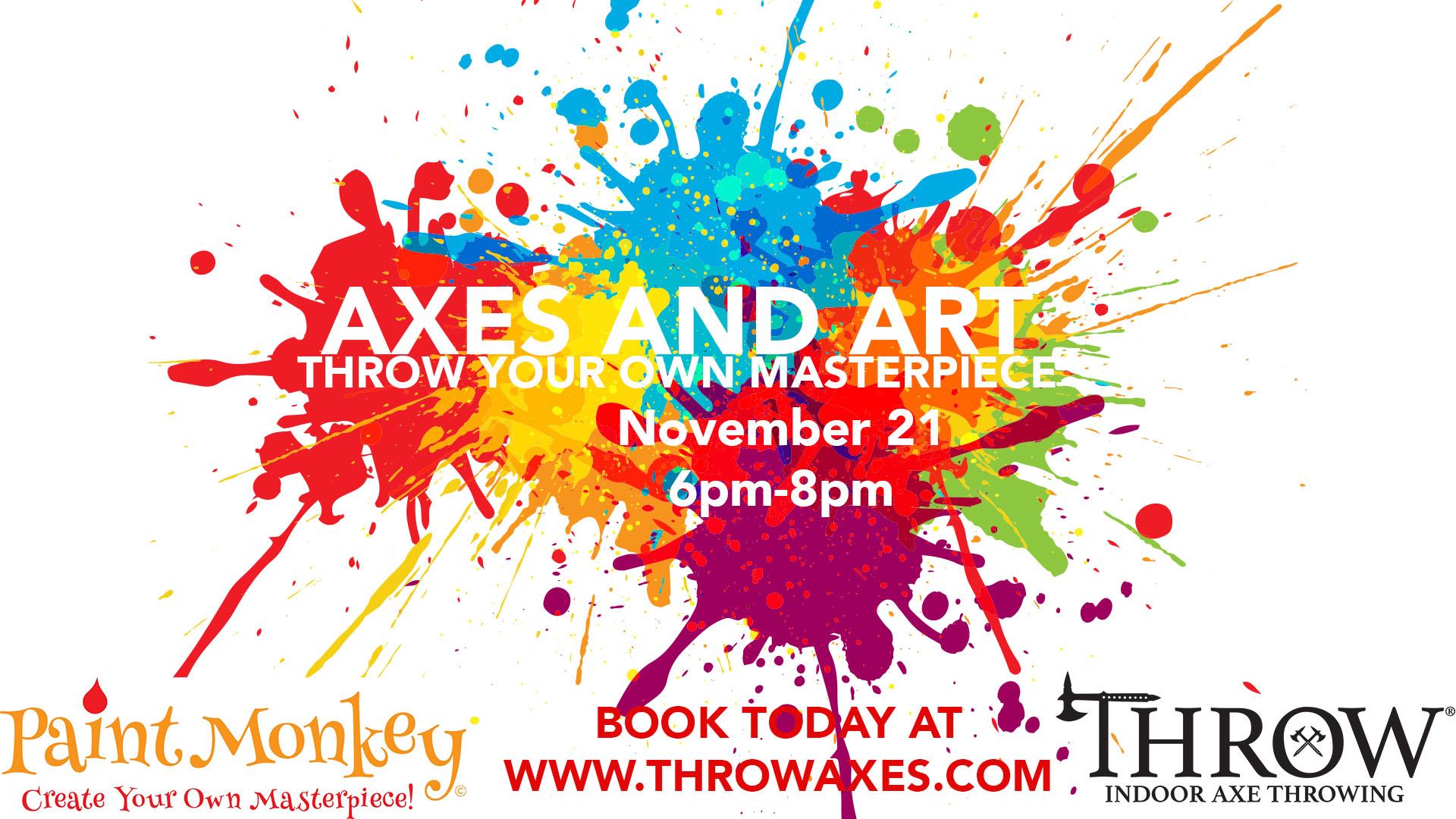 Axes and Art — A Friendsgiving Event
Thursday, November 21 • 6 – 8pm
Don't Miss This One-of-a-Kind Event!
Join us in connection with Paint Monkey for our fun event at THROW Axe Pittsburgh.
Perfect for Friendsgiving, family, co-workers!
Axes and Art is a 2-hour event that includes setting up your canvas and THROWing paint to create your own masterpiece.
The painting portion of this event will last around 1 hour and will be followed by Axe Throwing for an hour.
This event is BYOB and Bring Your Own Grub!
Grab some drinks, grab some grub and get ready to THROW your own masterpiece.
Tickets are $40 per person and include all paint materials and axe throwing.
Tickets are required for Axes and Art — A Friendsgiving Event. See our Facebook page for details.
Next Generation Axe Throwing
THROW is proud to bring a one of a kind knife and axe throwing experience to the Pittsburgh & State College areas. While normally Axe Throwing involves throwing axes at a target, Throw, in connection with IQ Escape, is bringing a new environment to Axe Throwing – you'll not only be using brawn but your brain as well!
What is THROW?
THROW is the only axe and knife throwing experience that will stimulate all of your senses. THROW offers a diverse and enjoyable experience by incorporating more than just a boring axe target. We broke the mold on escape rooms, now come enjoy the next generation of axe throwing!
Experiences are tailored to your desire. Want to let off steam and just THROW, no problem. Want to challenge your friends or family, no problem. We have designed multi-level games that will inspire your inner-competitiveness. Play Smart Axe to determine who really is a dumb axe; like playing cards, try Ace's & Axes; and lastly, forget about Words with Friends, try ScrAxel.

Paint Monkey — Here's How It Works
Everyone paints the same painting. One of our talented local artists guides you through the painting, step by step in a 2 or 3-hour session, and you will go home with your own masterpiece!  Even though the paintings may all start out the same, but you will see how completely different everyone's turns out. That's because we encourage you to make it your own!
We provide you with a 16 x 20 stretched canvas,paints and brushes, an apron and a creative atmosphere (historical Ice House in the heart of Lawrenceville) and lots of encouragement.
Check out our calendar of classes, select a painting you would like to paint and book it! Show up 15-20 minutes early on the date you reserved. We find that folks need to get settled in, open their wine, etc. This way, we can begin on time. Our studio holds up to 36, so if you have a larger group of friends, you can all book together. Just let us know ahead of time who's in your group and we will seat you together!
Costs and Reservations
Walk Ins – at our Waterfront studio, walk ins are welcome from 11am – 5pm daily. No reservations are necessary. Over 2 dozen pre-sketched canvases starting at $15 for a 12 x 12 and $25 for a 16 x 20 canvas. We rotate the images out monthly.
Art as Entertainment
Bring some friends, some wine (we are BYOB), maybe some snacks and get ready for a great night out. Perfect for a girls night out, date night, family fun, corporate outings and team building. We have cups, corkscrews, bottle openers, ice, bottled water.  Private parties welcomed, call for information at 412-770-4923.
karen
2019-11-05T16:24:09+00:00